Process-Oriented Evaluation of Chemistry-Climate and Earth System Models
Dr. Veronika Eyring, German Aerospace Center (DLR), Germany
September 26, 2011 &nbsp|&nbsp Jet Propulsion Laboratory, Pasadena, California
About this Lecture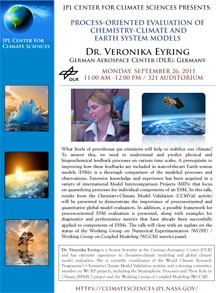 What levels of greenhouse gas emissions will help to stabilize our climate? To answer this, we need to understand and predict physical and biogeochemical feedback processes on various time scales. A prerequisite to improving how these feedbacks are included in state-of-the-art Earth system models (ESMs) is a thorough comparison of the modeled processes and observations. Extensive knowledge and experience has been acquired in a variety of international Model Intercomparison Projects (MIPs) that focus on quantifying processes for individual components of an ESM. In this talk, results from the Chemistry-Climate Model Validation (CCMVal) activity will be presented to demonstrate the importance of process-oriented and quantitative global model evaluation. In addition, a possible framework for process-oriented ESM evaluation is presented, along with examples for diagnostics and performance metrics that have already been successfully applied to components of ESMs. The talk will close with an update on the status of the Working Group on Numerical Experimentation (WGNE) / Working Group on Coupled Modeling (WGCM) metrics panel.
About Dr. Veronika Eyring

Dr. Veronika Eyring is a Senior Scientist at the German Aerospace Center (DLR) and has extensive experience in chemistry-climate modeling and global climate model evaluation. She is scientific coordinator of the World Climate Research Programme's Chemistry-Climate Model Validation activity, and a steering committee member on WCRP projects, including the Stratospheric Processes and Their Role in Climate (SPARC) project and the Working Group of Coupled Modeling (WGCM).