An Integrated Regional Climate Strategy: An Impossible Dream?
Will Travis, San Francisco Bay Conservation and Development Commission
August 25, 2011 &nbsp|&nbsp Jet Propulsion Laboratory, Pasadena, California
About this Lecture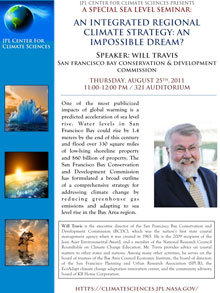 One of the most publicized impacts of global warming is a predicted acceleration of sea level rise. Water levels in San Francisco Bay could rise by 1.4 meters by the end of this century and flood over 330 square miles of low-lying shoreline property and $60 billion of property. The San Francisco Bay Conservation and Development Commission has formulated a broad outline of a comprehensive strategy for addressing climate change by reducing greenhouse gas emissions and adapting to sea level rise in the Bay Area region.
About Will Travis
Will Travis is the executive director of the San Francisco Bay Conservation and Development Commission (BCDC), which was the nation's first state coastal management agency when it was created in 1965. He is the 2009 recipient of the Jean Auer Environmental Award, and a member of the National Research Council Roundtable on Climate Change Education. Mr. Travis provides advice on coastal matters to other states and nations. Among many other activities, he serves on the board of trustees of the Bay Area Council Economic Institute, the board of directors of the San Francisco Planning and Urban Research Association (SPUR), the EcoAdapt climate change adaptation innovation center, and the community advisory board of KB Home Corporation.